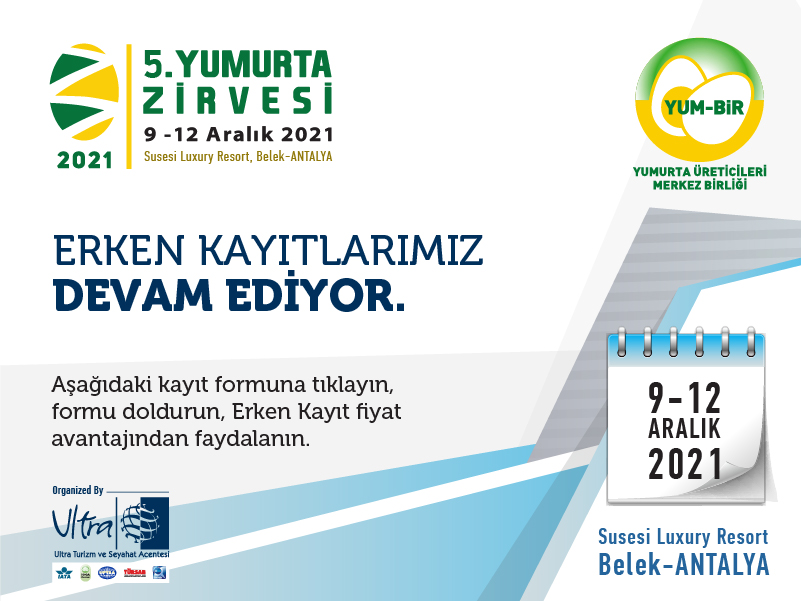 5. Egg Summit (9-12 December 2021) The Essence of Life Egg
Valuable producers and esteemed stakeholders of the EGG sector;
The egg industry maintains its place in the world with egg production and trade, by constantly improving its production infrastructure and superstructure, and by keeping the strengthening and quality improvement works always fit.
Egg production, consumption and export in our country is integrated with the world and enters a new circle of influence every year. While positive developments are experienced on one side, problems are diversifying on the other, increasing health problems and increases in production costs threaten the sustainability of production. In addition, different cultivation methods are on the agenda in line with the demands of the consumer and the market. These and similar developments lead our industry to change, development and breakthrough.
In today's world, where food safety gains importance from farm to pan, consumers question the conditions under which the eggs that come to their table are produced, what feed the chickens are fed and how they stay healthy. In short, tomorrow will be very different from yesterday. Sustainability of production may not be possible without adapting to new conditions. As YUM-BIR, we try to protect all correct and reliable production methods under our control and under our roof on behalf of our consumers and our industry.
With these thoughts and purposes, as the Central Union of Egg Producers, at the 5th Egg Summit, which we will organize with the theme of "EGG THE ESSENCE OF LIFE" between 9-12 December 2021 in Belek/Antalya, we will bring together all egg producers and all stakeholders of the sector and provide new information. and we want to share the developments in the world and create our future predictions. We expect all our stakeholders to be at the Summit with their questions, problems and support.
"SAFE FUTURE WILL COME WITH SAFE FOOD"
İBRAHİM AFYON
YUM-BIR Chairman of the Board